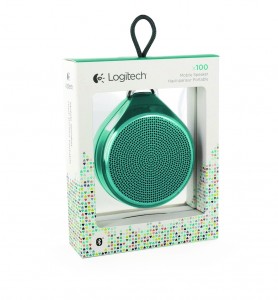 A while back, I received Logitech X100 Mobile Speaker, in cyan/green colour, for a review.
The Mobile Speaker promises to deliver rocking sound that you can take anywhere. The Bluetooth speaker is ultra-light and portable. I could place it in my bag without feeling the weight. Then again, I was carrying a laptop and a netbook at the same time during the school semester.
Without looking at the manual, one can easily figure out which buttons to push to connect to the device, or to control the volume or switching it off.
While reviewing, I used my laptop and my phone to connect to the speaker via Bluetooth to make calls. I managed to use the speaker in a Skype call with a pretty much OK quality. I was having my group project meeting then and had one member running late, who decided wisely to stay at home so that we could continue the meeting with her Skyping in. As the room was small, the mic pickup wasn't really compromised. However, at the a larger venue, which I did try at a Hackerspace Plenum, the member at the other end of the Skype connection had some difficulty hearing us, unless we speak up real loud, which we adjusted.
Additionally, I was able slip it into my side pocket of the No. 4 pants while on In-Camp Training last week. I brought the speaker along to be used in bunk. Despite being small, the sound produced was sufficient to cover the entire bunk with music and entertainment while we had rest time.
Logitech X100 Mobile Speaker is on sale now with a RSP of 69SGD. It is available in 4 different set of complementing colours. The long battery life of five hours is sufficient for usage with mobile devices. Additionally, it comes with one year warranty.