Facebook had released a separate mobile app for Facebook Chat a few months ago. Now, it has a Facebook Messenger for Windows.
What this means?
Death of Windows Live Messenger. I have less than 10 friends on it now.
I can uninstall RockMelt. Don't get me wrong. I love RockMelt. However, the main draw to RockMelt for me is its integrated chat function. Now that there is a native desktop application, I can junk the browser and switch back to Chrome.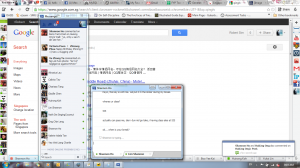 Initial usage however has let me think that it is more than a simple desktop messenger application. Not only it is a messenger, it serves as a desktop notification application as well. Whenever there is a new notification, it would pop up on the desktop.
In any case, you can download it from the official Facebook Messenger page.