Otherwise you are just embarrassing yourself. theonlinecitizen has just posted, on Facebook, a Google News link on Youth Olympics Game and saying this:
virtually all of [the news reported are] from our local news outlets. The world doesn't seem interested at all. But we're spending almost S$400 million on it.
For propensity sake, a screenshot of the link: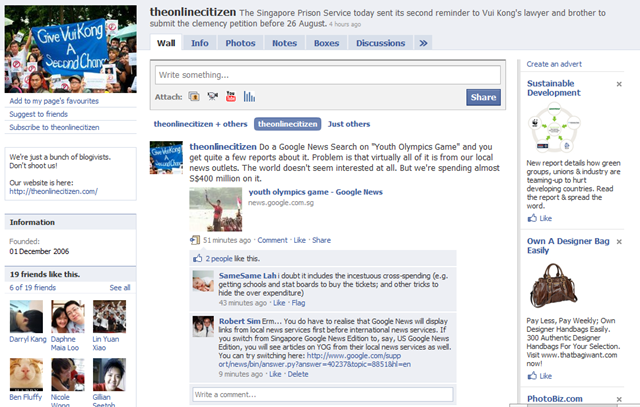 On the first glance, this statement seems valid. I decided to click on that link and it does direct me to Google News: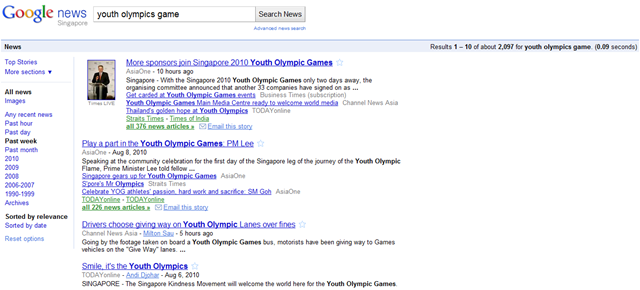 Yes, most of the news reported are from our local news services. What is lacking is international news. I do remember that Google likes to display information that is relevant to individual regions or even nations. A quick surfing on Google yields this:
We have more than 60 regional editions of Google News in many different languages. To change editions when you're on the Google News homepage, simply select your preferred edition from the drop down menu at the top of the page.

Each edition is specifically tailored with news for that audience, and a full list of available editions can be found below. If we haven't included the region or language you're looking for, check back soon. Our goal is to offer Google News to all of our users throughout the world, so you can expect to see lots of additions over time.
This is not obscure from users of Google News. In fact, it is placed, though not very prominently, on the bottom of the landing page of the service: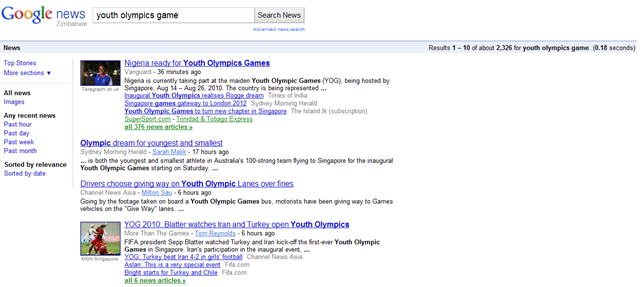 News from their local news providers appears at the top of the page too!
Moral of the story: Learn your tools of the trade before making a statement.
Disclaimers:
This article is in no direct relations to me being a YOG volunteer. All views stated here are solely mine and none of YOG or any of its offices.
This article is in no way to put down theonlinecitizen. I applaud for the efforts that theonlinecitizen has put in to provide an alternative view of Singapore. However, theonlinecitizen has to be reminded that being in the trade of publishing noteworthy news/content, it has to know the tools it uses.