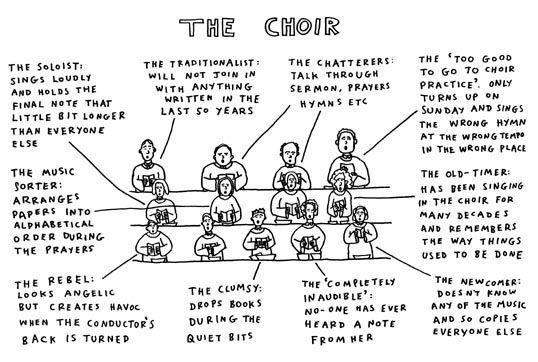 I had another draft regarding my interest in choral music. I decided to trash it since it was becoming more of a recounting post. I try to keep it brief here.
I always wanted to be in choir ever since primary school right after a performance my primary school choir put up during an assembly. I did not manage to join my primary school choir. Nonetheless, it did not dampen my enthusiasm. After primary school, I have joined 3 choirs successively. The first was Monk's Hill Secondary School Choir; the second, Yishun Junior College Chorale; and the current one being SMU Chamber Choir.
Though I have joined the choirs at different times, thus having different experiences, there are similarities. Rather, there is a pattern.
At the point of initial participation, all three choirs were relatively young.
MHSS was about four years old, YJChorale three and SMUCC three.
There is a progression of standards in all choirs. MHSS choir was a constant bronze choir under SYF central judging standards. However, in our hearts, our standards were improving. Before MHSS closed, they secured a silver (correct me if I am wrong). So was YJChorale. For SMUCC, there was no local competition as a yard-stick. And as a new member, I had no reference to make except for the short 3 months or so I am in the choir. However, as an audience, I can say without any bias that SMUCC is a choir that keeps improving.
It was for the second pattern that I decided to join SMUCC. I went to both initial and second Wrinkles in the Air concerts. Both concerts were held annually. Honestly, the first one sucked totally. I walked out of the hall, telling myself, "If this is the choir that I am to join, forget it. I rather join another CCA or none at all." I went to the second concert with friends in the following year. My thoughts after the concert went, "If the choir can improve leaps and bounds, I really do not mind joining the choir."
This year, I decided to join the choir 6 months earlier than usual. It is a decision that I will not regret. I made friends with many like-minded people. I found one who i can exchange snips with too! 😀 There is always a debate on what is the universal language. In choir, without doubt, it is music. When we went to Bandung, it was a blast. It kept me grounded, in fact. Despite of having a slight language barrier, though having English as a common language, we did really enjoy ourselves through the music we make.
In any case, this music progression will never stop.