Well, after the first reply, there was a further exchanges of email and several attempts to contact me via phone. Most of the time, I was busy with the preparation of a presentation.

First and foremost, we apologise again for causing you to gone through this bad experience. Please rest assured that we do take this matter seriously. The courierman incharge of the delivery should not leave the parcel unattended. In any case of lost due to SingPost negligence, SingPost will proceed for compensation.

With regards to your points below, from my understanding, courierman will only be paid for successful delivery only. Please do allow me to check further on the system update via SpeedPost . Hence if I not able to get back to you by today, I will give you a reply on Monday. Sorry for the inconvenience caused.
I have tried calling your mobile but to no avail. I wished to inform you that investigation is still on going. I will update you as soon as I can.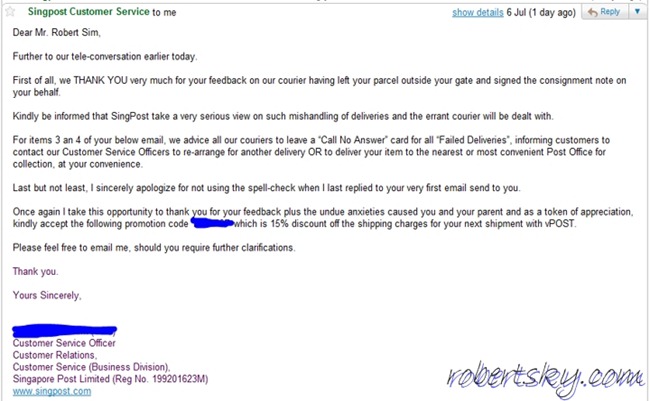 Further to our tele-conversation earlier today. [ed note: It is more of confirming the conversation that we had.]

First of all, we THANK YOU very much for your feedback on our courier having left your parcel outside your gate and signed the consignment note on your behalf.

Kindly be informed that SingPost take a very serious view on such mishandling of deliveries and the errant courier will be dealt with.

For items 3 an 4 of your below email, we advice all our couriers to leave a "Call No Answer" card for all "Failed Deliveries", informing customers to contact our Customer Service Officers to re-arrange for another delivery OR to deliver your item to the nearest or most convenient Post Office for collection, at your convenience.

Last but not least, I sincerely apologize for not using the spell-check when I last replied to your very first email send to you.

Once again I take this opportunity to thank you for your feedback plus the undue anxieties caused you and your parent and as a token of appreciation, kindly accept the following promotion code [redacted] which is 15% discount off the shipping charges for your next shipment with vPOST.

Please feel free to email me, should you require further clarifications.

Of course, I graciously replied to the last email with a thank you. Now, I am certainly happy with the 15% discount. However, will this stop me from using SingPost? With reluctance, I guess. Without a viable alternative, I will have to continue using SingPost for its postal service. As for vPOST? It will take awhile for me to use the code, as I am no hurry to buy items from overseas. I do hope that with such more cases reported, SingPost will be on the balls.
P.S. I do have to thank my audit lecturer at SAA for raising awareness of controls within systems. It is due to his teachings and the audit course syllabus, it occurred to me that there would have been failings in the system when the delivery status was updated.