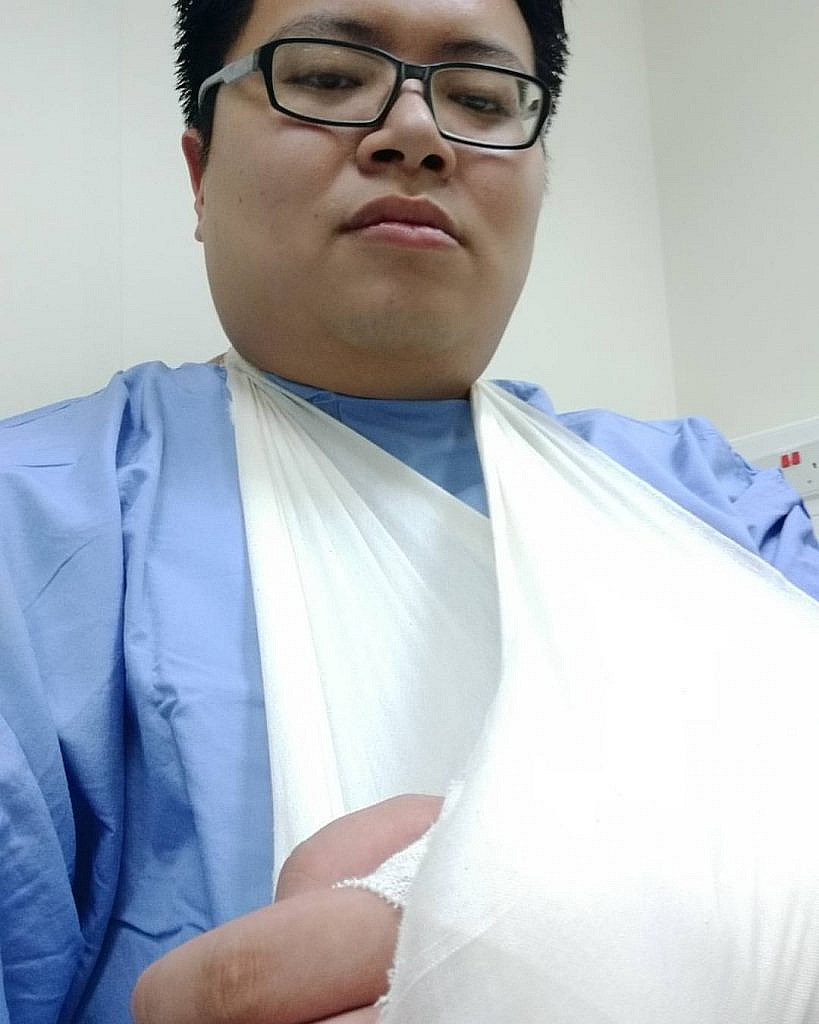 I usually daydream of adverse situations. One of the situations came true earlier this evening. While cycling to Bedok Camp for a Remedial Training session, a Filipino cyclist cut into my path and I didn't react in time. The cyclist was leading his team of fellow triathletes who are here for a triathlon tomorrow.
The crash
I was cruising on the cycling path and at the zebra crossing between the carpark and Jumbo Seafood restaurant where he stopped, he made a sudden u-turn. With no time to turn or swerve, I crashed into his bike headfirst. Somehow I flew over him upon impact. I tried to break my fall with a roll but fail. I landed with my hands outstretched (mistake!). Other park users immediately swarmed to us. Immediately, I felt nothing in my left forearm downwards and I was sliding into shock while my vision going white as I sat up.
I recognised the shock symptoms as I had experienced blanking out before. Thankfully, I had set up mental processes before after experiencing whiteouts: 'white out → breathe. white out → control breathing. white out → count breathes with heartbeats… in 4 fast beats. out 4 fast beat. repeat'. Soon, a couple of first aiders stationed at the Burger King area came over after someone cycled over to alert them. Seating in the middle of the path was blocking the traffic, so I moved the grass patch at the side.
Diagnosing the fracture
I could not move my forearm and my wrist had limited motion. The forearm and wrist was swelling fast. Fortunately, there was no bone jutting out of the skin, otherwise, there would have been blood all over the place. The more experienced first aider commented that he had seen worse, and advised me to go to the hospital. He could not diagnose immediately if it is a fracture or simply muscles affected.
I called my elder brother, who is a doctor at an A&E department, detailing the accident. I was hoping that he would diagnose first before we tell our parents about the accident. He immediately came over, with the parents in tow. Apparently they were out view a house for his upcoming marriage.
After a couple of tests on the spot, he also suggested it might be a fracture, but would require an X-ray to check which bone(s) is/are affected. So here I am at the hospital, diagnosed with a fracture at the radial bone in my left forearm. I am soon to be placed on painkillers via drip. It is in time as the elevated amount of adrenaline flowing through me is dwindling. An operation is to be scheduled to fix the bone.
To be thankful for
Luckily, there was no serious injury with the other cyclist who came to Singapore to participate in the triathlon tomorrow. Unfortunately, his bike needs servicing before it can be used properly in the race.
I am thankful for the first aiders stationed at ECP who responded on site. The Brampton bikes would be better off with them. They were cycling on crappy bikes.
I am thankful as well to my elder brother, who is a doctor, who responded to my call and probably interrupted his personal time with his fiance. Thankful to the rest of the family for being understanding.
Note: This is a back post extended from a post taken from my Facebook account.