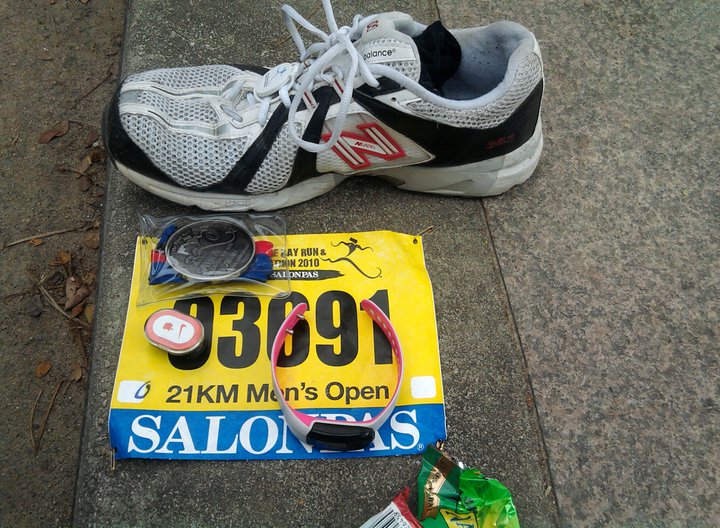 Army Half Marathon 2010: The aftermath
Army Half Marathon 2010: The aftermath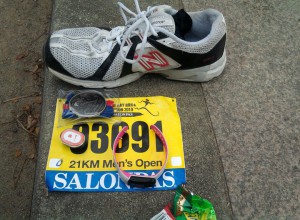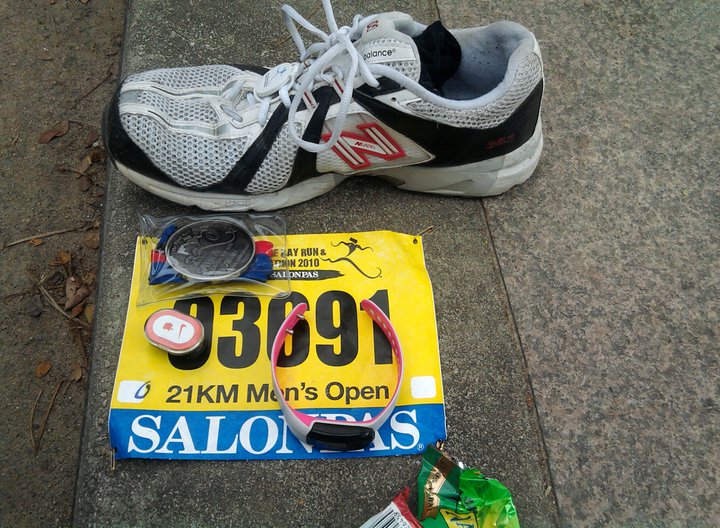 Last year I entered the Army Half Marathon under the persuasion powers of Yiping. This year, I entered the Army Half Marathon under the persuasion powers of the great discount offered to last year's runners. $_$
Unlike last year, I did not really train and prepare for the 21km run. Most of my time were dedicated to school, and whatever time I had carved out was way to sparse and widely spread to make much of a meaningful impact to the state of my body. Nonetheless, the thought of running 21km again was enough to keep me going.
The run started for me, not at 5am, but at 10pm on the previous night. Unlike last year, I could not afford to sleep at home and sleep past the stipulated time. Last year, my parents were away on an overseas trip and I could sleep with the lights on and with minimal comfort. This year, I decided to spend the night in school. After all, the basic amenities are already in place. There was a bonus too! Sharon, from the time of YOG, came and 陪 me. OK, she was studying while I was sleeping. Haha. I really got to thank her for fussing over me though. 🙂 The aircon was turned off, as it is supposed to be on every Sunday. Luckily, we could borrow a fan from the security desk. That itself made the room cool.
I woke up at 3.30am, to some noise. I was not sure what was it (definitely not paranormal activities). With the usual 赖床 pattern that I have, I only started cleaning up and packing and moved to meet up with another friend of Sharon, Xin Yan at 4.30am. We walked to the starting point. As we walked, we could see the other runners streaming to the place and gathering too. I bumped into Huili at the bag deposit area. We shared targeted timing, 2.5 hours for her and her colleagues and 3 hours for me. Sounded reasonable.
As I walked to the flagging off point, I placed my 5th call to Joyce. I had been calling her since I walked out of school. She overslept. It was only 30 minutes after the call, she started running. At least, she made it.
There were many sights to capture, but my handphone's camera would not do any justice to the sights. So I ended up not taking any pictures during the race. The route changed a bit from last year's race. We did not have to do the insane climb onto the expressway this year. But I kind of missed the climb. To me, it was exciting.
The watering points this year were not as creative as last year. No doubt that the units spent much effort on the various costumes and mascots, however they should also be creative in the set up of the watering points. Last year, the combat engineers laid out nettings at the side to "catch" the cups. This year, all I saw was just black trashbags on the floor or the usage of groundsheet instead, which was not really effective. Military police was being cheeky with the first sign before its watering point: "Speed trap ahead." I was rather amused with it. And indeed, its watering point was a speed trap. I took only one cup of water instead of the usual two because it was moving too slow for my comfort.
I hit the wall at 18km. However, knowing what it was, I kept my resolve. During the remaining run, I walked for most of the distance. I ran only when the cramps was not strong. The last sprint however took me away. I had to grunt my way through to reaching the finishing point. It was kind of embarrassing. I was going "HA!" on every left step and practically hopping and skipping to prevent the cramps from getting worse.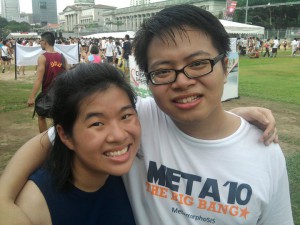 After the race, it was time for a massage, sponsored by Salonpas. It helped a bit to relieve the strain on the muscles. But till now, I am still aching. I went to collect my bags and changed out to a pair of slippers. Boy, the socks were heavily soaked in sweat! Me and Joyce met up along with one of her friends, Fan Zhi, and headed down to Burger King at the Esplanade Exchange for our first meal of the day.
I headed home after that, literally. Took me a good 15 minutes to walk from the bus-stop to home. I took a 3 hour nap on the cold hard floor before showering for an hour. The sweat stench was so strong that when I soaked my clothes in the soapy water, it stank. Opps.
I am going to pay for the strain I put on my muscles later. I will probably be penguin-walking all day along. :S